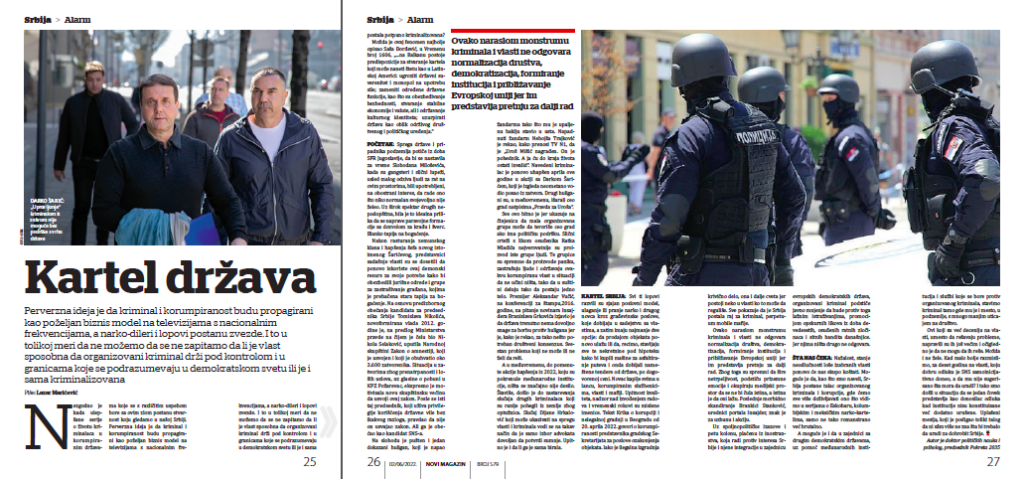 Written by Lazar Marićević, the President of Movement 2035. Concise version.
The full text was published in Novi magazin number 579, within the section Alarm edited by Lazar Marićević and Dragan Luković.
Perhaps this phenomenon was best described by Saša Đorđević, in Vreme no. 1606, "…in the Balkans there are predispositions to create a cartel that can cause damage like in Latin America…".
Based on the pre-election promise of the candidate for the president of Serbia, Tomislav Nikolić, the newly formed government in 2012, on the proposal of the Ministry of Justice headed by Nikola Selaković, sent the Law on Amnesty to the National Assembly, which was adopted and included about 3,600 prisoners.
A proven hooligan, who attacked a gendarme by putting a lighted torch in his mouth, was also released. The attacked gendarme Nebojša Trajković said, as reported by TV N1, that "Uroš Mišić was rewarded. He is the winner. And I will remain disabled for the rest of my life." The aforementioned criminal was arrested again in April of this year in an operation with Darko Šarić, crime boss, who seems to have run his business unhindered from prison. Other hooligans, in the meantime, painted the whole city with the signs "Justice for Uroš".
All these thieves have developed a great business model, investing or laundering drug and other money through construction jobs, which they get in cooperation with the authorities, and then they have at least two options: to reinvest by selling the buildings or to, say, mortgage all those properties in order to buy machines for asphalting roads and then receive rigged tenders from the state, at an agreed price. Money trickles down to everyone in the chain, corrupt officials, authorities and the mafia.
Unfortunately, the state of indecision of badly elected authorities will again cost us dearly. It is possible that, as we stated, Serbia will become a hostage of organized crime and corruption, where we will increasingly experience what we see in the series about Escobar, Colombian and Mexican drug cartels, only not so romanticized but brutally. And it is also possible that in the community with other democratic states, with the help of international institutions and services that fight against organized crime, we can put crime where it belongs, in the underground, with a much smaller impact on society. Those who have been in power for a decade, instead of solving the problems, have made them even bigger and it is obvious that they cannot solve them. Maybe they don't want to. When we think about it a little more, in ten years in power, what good decision did SNS make on its own initiative, without being suggested what it must do? So we came into a situation where one man presents himself as a decision-maker when the institutions are not constituted but additionally collapsed. A frightened messiah, that he no longer knows what he should do for the welfare of Serbia.